We are making efforts to become a company worth working with by delivering tasty fishes to customers across the country from Takashima Fishing Port, Otaru, and by taking pleasure from their satisfaction through our daily work.
■Ishikari-nabe / Otaru's small pot
Ishikari-nabe hot pot, a quintessential Hokkaido cuisine, is characterized by its rich miso broth. As its ingredients like fat autumn salmon caught in Rausu (Hokkaido), fish balls, deepwater shrimps, and scallops are stewed well before being served, the broth bursts with seafood flavors. A hint of our secret fish sauce made from deep-water shrimp is added to bring depth to the flavor.
FCP Format for Exhibition and Business Meeting
■Crab hotpot / Otaru's small pot
The hot pot for one person features red snow crab from Hokkaido. Ingredients like vegetables and scallops make the pot a perfect main dish for your dinner. You only have to heat it in the microwave to enjoy the authentic flavor of crab hot pot at home. Our secret fish sauce made from deep-water shrimp adds delicious aroma and flavor to the dish.
■Otaru's Small Pot (6 packs included)
Otaru's Small Pot is an assortment of authentic seafood hotpots that can be eaten just by heating it up in a microwave. These seafood hotpots include Ishikari-nabe that is a representative local dish of Hokkaido that features its rich miso flavor, a crab hotpot using red snow crabs lavishly with a soy sauce flavor, and a salty-flavored seafood soup made with salmon and trout with which you can enjoy the flavor of the broth. Each pack is for one person, so you can readily enjoy it anytime.
■Hokkaido soup curry set
A set of soup curry that you can eat immediately just by heating it in the microwave.
■Seafood bukkake bowl
Fresh mekabu (root of brown seaweed), topped with seafood, is served with a hint of our secret fish sauce made from deep-water shrimp for a greater flavor. It goes perfect with rice, as well as udon and soba
noodles. The single-serve size offers a wide range of flavor choices without wasting food.
<Portions per case>
【Bukkake rice bowl】
(Sweet shrimp)70g×1P、(squid)70g×1P、(crab)70g×1P、(scallop)70g×1P 
【Negitoro rice bowl】 
(Tuna)70g×1P、(salmon)70g×1P   
■"Miyabi," a fish sauce made with sweet shrimps
The fish sauce is made from only fresh sweet shrimps landed along the coast of the Sea of Japan and retains the savory smell of shrimps matured and fermented only with malted rice and salt, into which the time and effort have been put for 100 days. The fish sauce made with sweet shrimps is a flavor enhancer full of natural umami, and a mild fish sauce full of natural umami. It goes well with fish and meat. Half a spoon of the fish sauce can be best used as a hidden flavor with rich taste and umami for daily meals, such as grilled foods and simmered dishes.
■An assortment of pickled fish fillets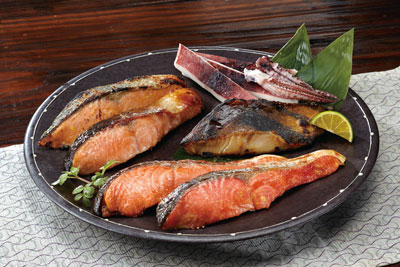 Sake lee-pickled fish fillets use sake lee from a local sake brewery in Otaru. The rich fragrance of the fish fillets stimulates your appetite. Sweet miso-pickled fish fillets use uniquely low-salt miso blended in a way that extracts umami from the fishes. Fish fillets pickled in sweet Kyoto-style miso (Saikyozuke) feature richness, mild sweetness, and elegant umami. The assortment of fish fillets is our specialty carefully pickled piece by piece and matured at a low temperature.
---
URL
https://www.otaru-kaiyo.co.jp/
Products handled
Gift items, such as hotpot, pickled fish fillet, roe, salmon, and Matsumae-zuke, etc.
Qualification
HACCP(JFS-B)
history
1996 Set up Otaru Marine Fisheries Ltd.

2002 Reorganized into Otaru Marine Fisheries Co., Ltd.

2006 Relocated the head office and built a head office building.

2008 Opened an online shop "Otaru Umisen."

2014 "Miyabi," a fish sauce made with sweet shrimps, went on sale.

2019 "Otaru's Small Pot" cookable by a microwave oven went on sale.